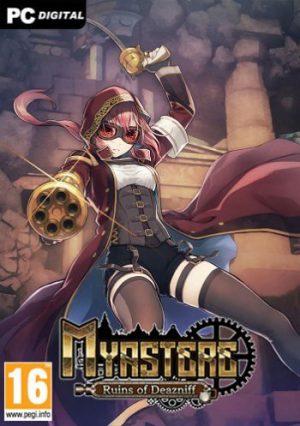 Main Information:
Game name: Myastere -Ruins of Deazniff-
Ganre: Action, Adventure, Arcade, PC Games
Developer: SUCCESS Corporation, Studio Saizensen Co., Ltd.
Release date: 2021
Interface language: EN / Multi11
Voice language: EN / Multi11

DOWNLOAD Myastere -Ruins of Deazniff- DIRECT LINK - TORRENT - REPACKED
Description:
Myastere -Ruins of Deazniff- is a spring wire action game that explores ruins.
Aaurae, a member of a special ruins investigation team, begins her investigation in the vast underground ruins, making full use of her revolver and wire launcher! Collect historical remains "Relics" and get closer to the mystery hidden in the ruins!
Features
- Metroidvania-style action with revolvers and wires that will keep you on the edge of your seat!
- Switch between multiple ammunition and weapons to fight enemies and to pass traps to strategically advance your investigation!
- A steampunk and ruins investigation story with a cool protagonist and full voice acting throughout!
- There are many grimoires, relics, and key items to acquire skills. Aim for full completion!
- The story will change depending on the order of the areas you investigate. What will happen to you?
System Requirements:
CPU: Intel Core Core i3 Ghz or faster processor

RAM: 8 GB

OS: Windows 8.1 / 10

Video Card: OpenGL 3.1 compliant Graphics card

Free Disk Space: 6 GB
Video review: