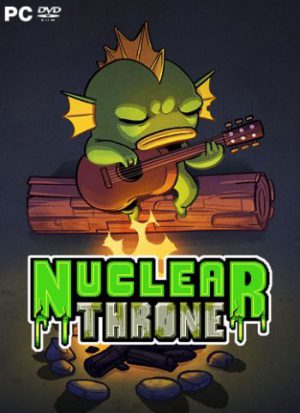 Main Information:
Game name: Nuclear Throne
Ganre: Arcade, PC Games
Developer: Vlambeer
Release date: 2015
Interface language: EN
Voice language: EN

DOWNLOAD Nuclear Throne DIRECT LINK - TORRENT - REPACKED
Description:
Nuclear Throne is a post-apocalyptic roguelike-like top-down shooter. Not the final hope of humanity post-apocalyptic, but humanity is extinct and mutants and monsters now roam the world post-apocalyptic. Fight your way through the wastelands with powerful weaponry, collecting radiation to mutate some new limbs and abilities. All these things and more you could do if only you were good at this game. Can you reach the Nuclear Throne?
- Pick from 12 playable characters including a mutant fish, the triangular yung venuz or a headless chicken.
- Battle to the throne through seven playable main worlds and procedurally generated levels. Discover a huge amount of secret worlds and challenges.
- Mutate your character in almost 30 different ways using radioactive waste around the world and get inventive in your combat strategies.
- Use a range of over 100 weapons, from the familiar machine-gun and shotgun to the slightly alternative screwdriver and quintuple-barreled rocketlaucher.
- It's dangerous to go it alone - get together with a friend and battle your way to the Nuclear Throne with local co-op.
- Art by Super Crate Boxs Paul "Pietepiet" Veer, music by LUFTRAUSERS Jukio "KOZILEK" Kallio and SFX by Downwells Joonas Turner. Concept art by Nuclear Thrones Justin Chan.
System Requirements:
CPU: 1.2 Ghz+

RAM: 1 GB

OS: Windows XP / Vista / 7 / 8 / 10

Video Card: 256 MB VRAM

Free Disk Space: 200 MB
Recommended System Requirements
CPU: 2 Ghz

RAM: 2 GB

OS: Windows XP / Vista / 7 / 8 / 10

Video Card: 1 GB VRAM

Free Disk Space:500 MB
Video review: